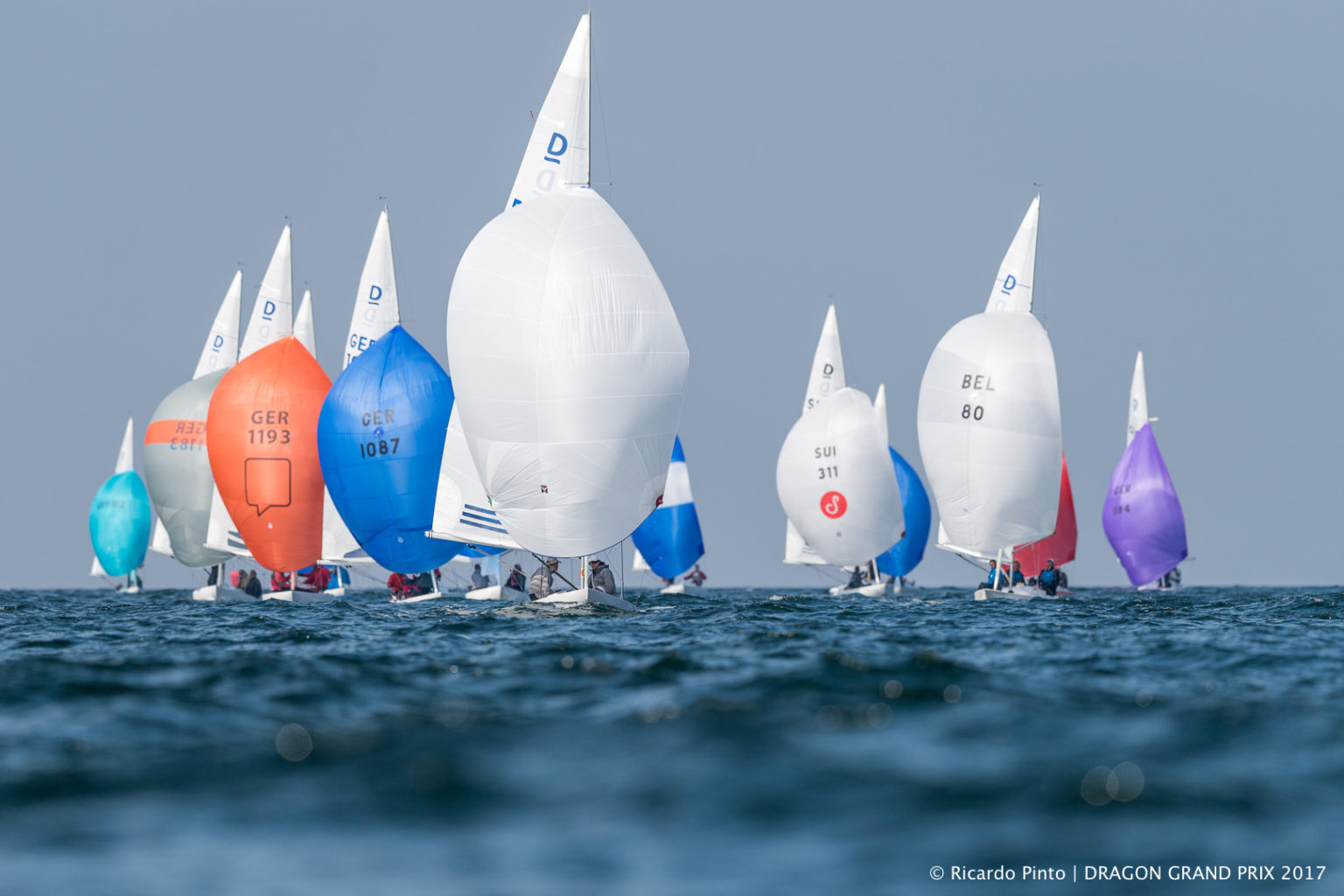 dragon worlds News no 5 |
january, 13 th 2021

| Germany |
The most important thing is that we are able to sail !
Corona and the World Championship. Gregor Berz, Commodore DDG and Peter Menzel, Regattamanager in Kühlungsborn about the way they want to go
January 2021. The 'Deutsches Drachengeschwader' will host the Dragon Sailing World Championships in the Baltic Sea resort of Kühlungsborn from June 13th to 18th.  After 1981, 1993 and 2005, this will be the fourth time that the DDG hosts the World Championships, and yet many things will be different in 2021, even more so as the Corona pandemic still has the world firmly in its grip.  Dr Gregor Berz, Commodore of the Deutsches Drachengeschwader (the german classassociation), and Peter Menzel, Regatta Manager of the organising sailing club Kühlungsborn, explain in an interview how they are organising the World Championships in spite of this: 

Mr Berz, last year, especially from autumn onwards, major regatta events such as Kieler Woche showed that international regatta sailing is also possible in Corona times. What is the DDG's position on the issue?  

Gregor Berz: We are least concerned about sailing on the water itself and also the administration on land will certainly be possible according to our assessment today, provided that all reasonable and also all legally prescribed measures are observed. We might have to dispense all social programs, unless two or more miracles will happen between now and next June: Not only will the Corona measures probably still mean restrictions in June, but also the financing of attractive evening events by sponsors is simply not possible in times like these. Therefore, in contrast to the 5th International Dragon Classics planned for the summer of 2021, which has already been cancelled, we have issued the directive for the World Championship that, in case of doubt, we simply want to sail.   

Mr Menzel, the Kühlungsborn Sailing Club has an excellent reputation for itself in the international dragon sailing scene. It hosted famous events, e.g. the Gold Cup in 2015. However, at that time, the shore events were also a factor that contributed a lot to the fantastic experience – what kind of challenges does the Pandemic, or Corona, pose for the club in terms of the organization?

Besides the excellent sailing area, Kühlungsborn itself has a lot to offer. In previous events the local restaurants supported us in creating a wonderful atmosphere at the After Race and at the dinner in the evenings. At the moment we all don't know exactly what will be possible for the World Cup and what not. But it is very likely that we still have to deal with strict distance rules and restrictions on the number of people allowed at social events. We are therefore planning on multiple tracks with various alternatives. For us, this means a higher effort and requires a lot of spontaneity. Even though we might have to abandon After-Race and dinner, we might have to avoid a hot spot at the notice board by using electronic media, and we might have to impose special admission requirements for participants, such as a valid Corona test for participants from risk areas, the sailing itself will take place. As soon as three people are allowed to meet, we assume that the minimum required distance between the groups of people on the water is always given…. 

Mr Berz, the International Dragon Association – IDA for short – requires at least 10 nations for a World Championship – is that a big hurdle? Are there any special efforts taken by the DDG to attract international sailors? 

Gregor Berz: Of course, international participation in the World Championships is highly important.  To have participants from at least 10 nations is only the official requirement. In the special pandemic situation, we will also keep an eye on all national and international travel restrictions that will exist in June. If there are any travel restrictions from too many nations, we will have to think seriously about the  World Championships. However, there are also people who say that sailing should take place as long as it is possible on site: the people affected who have to stay at home are not helped if those on site who could sail are not allowed to sail either. In principle, neither the IDA nor the DDG want to be the ones who cancel the races.   

The Owners' Committee of the dragon sailors has probably asked for a possible cancellation to be announced two months in advance, how flexible are you on the part of the organisation and how do you see it on the part of the DDG?  

Gregor Berz: The desire for security with two months' notice is very understandable and we will do everything we can to find out and inform as early as possible if the World Championship has to be cancelled. However, experience with the international german Championship in August 2020, which was cancelled on short notice, shows that the absolute planning certainty can only be given in one, the negative direction. Unfortunately, we cannot say for sure, either with two months' notice or with any other notice, whether we will really be able to hold the World Championship, because a cancellation can be announced by the authorities at any time in times of a pandemic. What remains for all of us, the participants and the organizers, is to observe and assess the situation with common sense. We will openly provide information about our assessment on a regular basis through all channels. And by the way, from today's perspective we assume that the summer will bring a certain improvement in the pandemic situation, which makes us optimistic.

Peter Menzel: In general, we in Kühlungsborn can react very quickly and flexibly to any changes that arise. The problem, as always, is the funding of this flexibility. For the World Championship, extra dinghies are chartered, a bigger race committee vessel is brought over, race officials and jury members need to be flown in and, if necessary, catering services need to be ordered. Contracts are also concluded with sponsors and the harbour operator. All this requires a certain lead time and a point of no return, after which contracts are signed and costs are definitely incurred. It must be clear to everyone taking part that the costs incurred cannot be borne by the Sailing Club Kühlungsborn as the organizer, and that we cannot bear the risk of the costs alone. In this respect, there will automatically be a point in time when a final decision has to be made. Normally, this is the day of the closing date for entries, when all the figures are on the table.  

Kühlungsborn is a wonderful holiday resort – is it worthwhile to experience more than just the Dragon World Championship there?  Are there any special tips for booking? 

Peter Menzel: The vast majority of our guests with almost 2 million overnight stays per year do not come to Kühlungsborn for sailing alone. So we have much more to offer. You can find just everything you would expect from a favorite holiday destination. Golf courses, tennis courts, horseback riding, hiking, shopping, strolling, wellness, restaurants, art and culture are just a few of the keywords I like to mention. A good overview can be found on the website www.kuehlungsborn.de. There is a wide range of offers for young and old, for families and single travelers. So it's worth bringing the family along to the World Cup. This is probably what sets Kühlungsborn apart from many other sailing resorts.    

Back to the organisation – what are the special organisational challenges for this World Cup? 

Peter Menzel: For us as a sailing club there are several challenges. On the one hand, a World Championship is not an everyday regatta, even though we have already gained experience through the Dragon Gold Cup, the Dragon Grand Prix and European as well as World Championships of other boat classes. In addition to the constantly changing legal situation, which always requires several alternative in planning, there is above all the uncertainty regarding the expected number of participants and the registration discipline. It is absolutely understandable that the sailors are as well insecure, want planning stability and do not necessarily want to be stuck with unnecessary costs. Nevertheless, I would like to appeal to all sailors: Book your accommodation as soon as possible, because the place is already booked up much more than usual in June, due to the extreme increase in domestic tourism, and make a definite booking as soon as the registration portal opens. 

Gregor Berz: "The biggest challenge is certainly the organization on land with a Corona concept that gives all participants the security of not catching the virus at the Dragon World Championship. The complete digitalization of the race communication is of high importance in this context. Furthermore, we are probably will implement antigen-testing capacities, which we want to offer on a voluntary basis. 

All in all, this all sounds very positive. Are there any special thoughts you would like to express here? 

Gregor Berz: The World Championship 2021 in Kühlungsborn should – this time purely from a sailing point of view – be an unforgettable experience for all participating Dragon sailors!  


Mr Menzel, Mr Berz thank you for the interview. We wish all of you success, good luck and above all good health for 2021!